Safety
Safety Device - React Sidekick
Our Price:

$59.99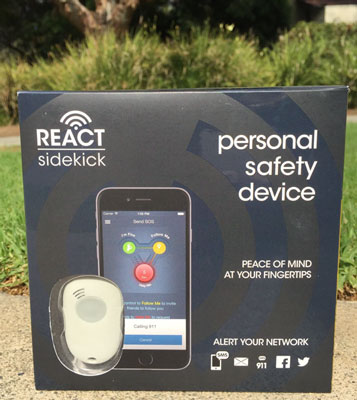 enlarge image
Product Description
Now at the Bookstore: React Sidekick - your personal safety solution
The Bookstore now offers the personal safety solution to carry while traveling around Los Angeles or road tripping across the United States!
The REACT SIDEKICK key chain pairs with the REACT APP for your IPhone or android. THE SIDEKICK is the fastest and easiest way to send out a widespread emergency alert to your friends, family, social network and/or local authorities
Activate the "follow me" feature on the REACT APP and your selected list of contacts can track you by GPS location while you are out and about. Chose "I'm Safe" when you are at your destination. A message is sent to your list and the GPS locator is turned off.
In trouble?? The SIDEKICK key chain gives you a one-button call for help. When the button is pressed your GPS location is sent to friends/family on your list and 911 is activated on your phone. The SIDEKICK pairs with the REACT MOBILE SAFETY APP via Bluetooth.
NOW AVAILABLE AT THE BOOKSTORE: REACT SIDEKICK $ 59.99